Lovely holiday home in Illeris with views to the Limfjord
Holiday home L15083

Booking details
Guests:
Choose
Arrival:
Choose
Departure:
Choose
Edit
Booking details
Guests:
Choose
Arrival:
Choose
Departure:
Choose
Edit
Show details
Update calendar and prices

Description
Nice and well maintained holiday home situated in the small holiday area Illeris in the outskirts of Hvalpsund. The house contains an entrance and a well equipped kitchen in opening with the living room with dining area, wood burning stove, energy efficient heat pump, with Chrome Cast, an alcove and access to the terrace. In addition, there is a nice bathroom with heated floors and a washing machine and 3 bedrooms. There is a lovely garden with views to the fjord and a swing for the children.
The area
Illeris is a small holiday home area right next to Hvalpsund. In Hvalpsund there are, among other things, boat rental, golf course, fishing lake and good restaurants. The beautiful landscape in Louns / Hvalpsund is characterized by large hills divided by valleys which are formed by erosion. The outermost part of Louns peninsula is a nature reserve, and you can walk along the marked trails and the beach. The hills on Louns were created in the Ice Age. In Hvalpsund there are good bathing spots, including the "palm beach" with jetty and beach volleyball for free. There are a variety of destinations in the vicinity, including the manor Hessel, a farming museum in service with activities for the whole family, Meldgård Horses with organized rides and canoe rental, seal watching with the Livø ferry where you can come close to the seals, medieval days in the monastery Vitskøl, a trip on the schooner Lovise Moland with pirate tour for the children. There are also unique fishing opportunities, either directly on the beach or in one of several put and take lakes and small rivers. The large city Ålborg with all its temptations and activities is only 60 km away from the area.
Show more
Facilities
600 m to the beach

Internet

Smoking not allowed

Wood stove

Dishwasher

Washing machine
House information
6 adults
Pets not allowed
96 m² house
1,347 m² plot size
Built in 2003
Smoking not allowed
Toilet
Shower
Distances
600 m to the beach
1,000 m to a shop
1.5 km to a restaurant
1.5 km to a golf course
600 m to the fjord
Energy / Heating
Wood stove
Electric heating
Heat pump with cooler
Avg. energy consumption winter
Avg. energy consumption summer 2
Electrical appliances
Dishwasher
Washing machine
Coffee machine
Electric water kettle
Microwave oven
Rrefrigerator
Ffreezer 60 L
Cooker (with plates and oven)
Oven
Range hood
Multimedia
TV
Danish TV
Swedish TV
Norwegian TV
DVD
Internet

Free Wi-FI I – mail, surf, Facebook

Radio
Surroundings
Terrace
Barbeque
Garden furniture
Parasol
Carport
Swing
Trampoline
Show all facilities
Floor plan and interior overview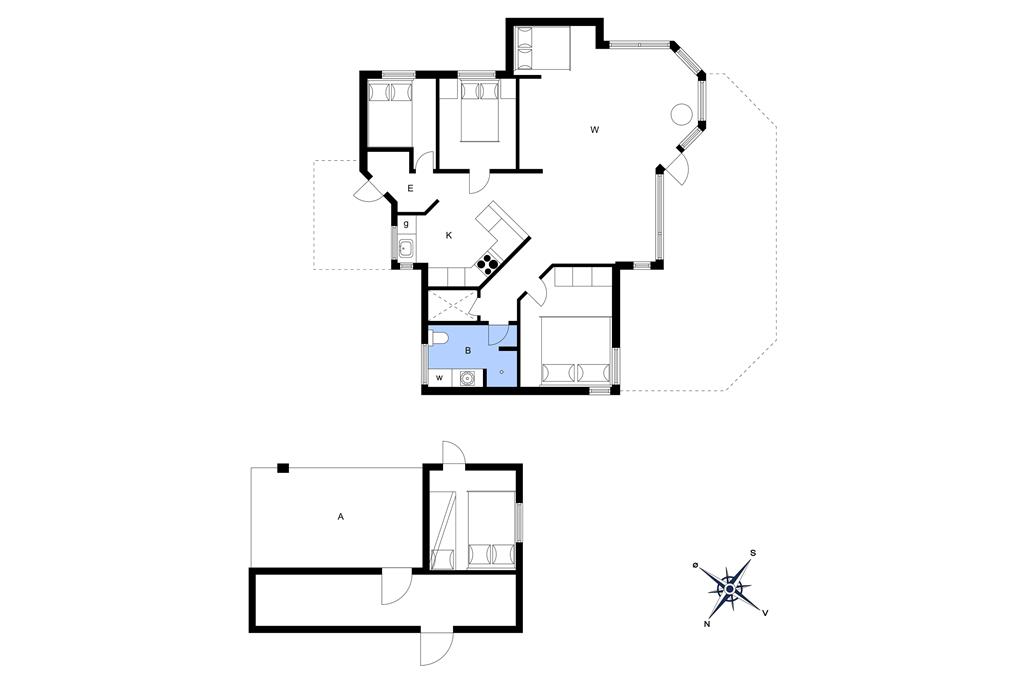 Bathroom
Toilet
Shower
Washing machine
Under floor heating
Bedroom
Single Bed

Adjustable bed 210x80 Sense Lux

Single Bed

Adjustable bett 210x80 Sense Lux
Kitchen/family room
Dishwasher
Coffee machine
Electric water kettle
Microwave oven
Rrefrigerator
Ffreezer 60 L
Cooker (with plates and oven)
Oven
Range hood
Livingroom
Wood stove
Heat pump with cooler
TV
Danish TV
Swedish TV
Norwegian TV
DVD
Radio
View interior overview
Consumption information
Electricity (kWh)
0.38 EUR
Safety Included – your safety when you rent from us
Safety Included is insurance that guarantees you a good experience, even if an accident occurs. You always get the insurance with your booking at Feriepartner at no extra charge. The insurance is offered in collaboration with Gouda Travel Insurance.
Illness cancellation insurance without excess charge
Travel cancellation
Unemployment (cancellation)
Home contents/liability insurance
Doctor-on-call
Price guarantee (you will not find Feriepartner's holiday homes cheaper elsewhere)
Member of the Holiday Home Renters Industry Association
More about Safety Included
Less about Safety Included
Create a profile for My Feriepartner on My Feriepartnerfil til Mit Feriepartner
Provide your name and an e-mail address
Forgotten password – My Feriepartner
Enter the e-mail address you used when you set up your profile on My Feriepartner. We will then send you an e-mail to reset your password.
Back