Holiday home 977, Klitmøller, for 6 people
Holiday home 977

Booking details
Guests:
Choose
Arrival:
Choose
Departure:
Choose
Edit
Booking details
Guests:
Choose
Arrival:
Choose
Departure:
Choose
Edit
Show details
Update calendar and prices

Final cleaning
Enjoy your holiday until the very last minute - we do the cleaning for you when your holiday is over.
Description
Holiday home in Klitmøller, Northern Jutland, with space for 6 adults. It features beautiful furnishings including a fireplace, and you will also find a washing machine and a dishwasher in the accommodation.
When you rent this holiday accommodation, you have access to a whirlpool, a sauna and internet. It is 1,160 m to the closest beach and 730 m to the nearest shopping options.
The accommodation is 110 m² and situated on a 1,293 m² piece of property.
Show more
Facilities
1.2 km to the beach

Internet

Whirlpool

Sauna

Smoking not allowed

Wood stove
House information
6 adults
Pets not allowed
110 m² house
1,293 m² plot size
Built in 2000
Smoking not allowed
Toilet
Shower
Whirlpool
Sauna
Distances
1.2 km to the beach
730 m to a shop
1.4 km to a restaurant
2.9 km to a golf course
1.2 km to the sea
Energy / Heating
Wood stove
Electric heating
Avg. energy consumption winter 35 kWh/day
Avg. energy consumption summer 12 kWh/day
Water included
Electrical appliances
Dishwasher
Washing machine
Coffee machine
Electric water kettle
Microwave oven
Rrefrigerator
Ffreezer
Oven
Electric plates
Range hood
Multimedia
TV
Satellite
Danish TV
German TV
DVD
Internet

Free Wi-FI III – mail, surf, Facebook, HD streaming, Gaming
Extra
Free entrance to activities
Cleaning included
Surroundings
Terrace
Barbeque
Garden furniture
Parasol
Show all facilities
Floor plan and interior overview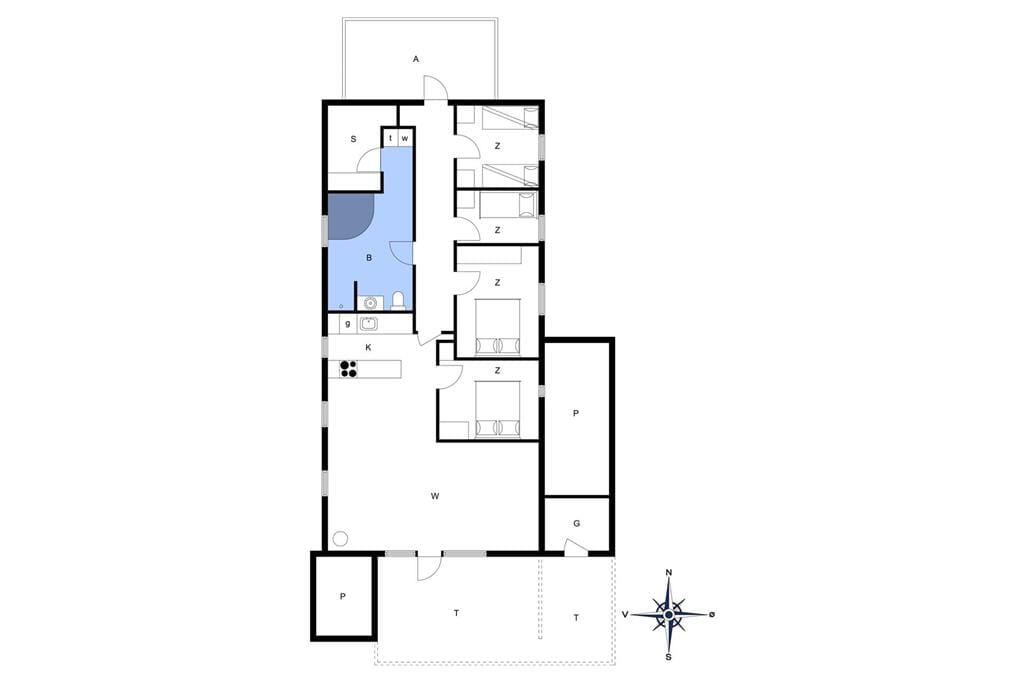 Bathroom
Toilet
Shower
Whirlpool
Sauna
Washing machine
Under floor heating
Kitchen
Dishwasher
Coffee machine
Electric water kettle
Microwave oven
Microwave oven
Rrefrigerator
Oven
Electric plates
Range hood
Livingroom
Wood stove
TV
Satellite
Danish TV
German TV
DVD
View interior overview
Consumption information
Electricity (kWh)
0.35 EUR
Safety Included – your safety when you rent from us
Safety Included is insurance that guarantees you a good experience, even if an accident occurs. You always get the insurance with your booking at Feriepartner at no extra charge. The insurance is offered in collaboration with Gouda Travel Insurance.
Illness cancellation insurance without excess charge
Travel cancellation
Unemployment (cancellation)
Home contents/liability insurance
Doctor-on-call
Price guarantee (you will not find Feriepartner's holiday homes cheaper elsewhere)
Member of the Holiday Home Renters Industry Association
More about Safety Included
Less about Safety Included
Create a profile for My Feriepartner on My Feriepartnerfil til Mit Feriepartner
Provide your name and an e-mail address
Forgotten password – My Feriepartner
Enter the e-mail address you used when you set up your profile on My Feriepartner. We will then send you an e-mail to reset your password.
Back