Large holiday home close to Schackenborg Castle
Holiday home F40700 Schackenborg

Booking details
Guests:
Choose
Arrival:
Choose
Departure:
Choose
Edit
Booking details
Guests:
Choose
Arrival:
Choose
Departure:
Choose
Edit
Show details
Update calendar and prices

Final cleaning
Enjoy your holiday until the very last minute - we do the cleaning for you when your holiday is over.
Description
Schackenborg welcomes you in this holiday home for 16 persons. The house was built in 1910 and is located on the palace plot around a kilometre from Schackenborg Castle. The holiday home was originally used as a widow´s residence, and has until a few years ago been inhabited by the castle´s stewart. The house was renovated in 2011, and the interior originates partly from Schackenborg Castle. The castle apartment is perfect if you wish to spend a holiday in historical surroundings with a fantastic nature. The house 453 m2 large building which is two-storeyed and includes on the ground floor a hallway from where you can access the sitting room, a small dining room, the separate kitchen as well as a large bedroom with double bed. Furthermore, there is an extra toilet. On the 1st floor there are 5 bedrooms with 2 beds in each (can be placed as a double bed), 2 bedrooms with 2 bunk beds in each and 2 bathrooms. From the house you can access a large and park-like garden where you can be undisturbed. At the local inn Schackenborg Slotskro meal can be arranged. Please contact us for an offer.  

The area

Møgeltønder is an idyllic village which is located beautifully in the unique marsh landscape only 5 km away from the border between Denmark and Germany. The area is perfect for those who love nature. Here you can experience the nature park Wadden Sea as well as the nature phenomenon "Black Sun" during spring and autumn with thousands of starlings. Møgeltønder offers an idyllic and paved main street with many well-kept old houses and the gourmet restaurant Schackenborg Slotskro. Here you also walk by the Schackenborg Castle where you can join guided tours through the castle park during summer. In the so-called castle mark barn located close to the holiday home, there is established a museum which is worth a visit.   

Black Sun

Experience thousands of starlings while doing their impressive dance in the evening sky right before they go to rest in the marsh. The marsh area in Southern Jutland is the place in Denmark where most migratory birds stop before continuing their travel towards north or south. The phenomenon of Black Sun can be enjoyed best in March/April as well as in September/October.   
Book a mini holiday

You can book this holiday home online for a minimum of 3 nights (except in July/August). If you are interested in booking 1-2 nights with arrival Monday, Tuesday and Wednesday, please contact the office.
Show more
Facilities
30.0 km to the beach

Internet

Smoking not allowed

Satellite

Dishwasher

Washing machine
House information
16 adults
Pets not allowed
453 m² house
3,000 m² plot size
Built in 1910
Renovated in 2011
2 Piece floors/levels in the rental object
Smoking not allowed
Toilet
Shower
Distances
30.0 km to the beach
1.5 km to a shop
1,000 m to a restaurant
20.0 km to a golf course
Energy / Heating
Central heating
Avg. energy consumption winter 96 kWh/day
Avg. energy consumption summer 52 kWh/day
Electrical appliances
Dishwasher
Washing machine
Coffee machine
Electric water kettle
Microwave oven
Rrefrigerator 2
Ffreezer 40 L
Cooker (with plates and oven)
Oven
Multimedia
TV
Satellite
Danish TV
German TV
Internet

Free Wi-FI I – mail, surf, Facebook

CD
Radio
Extra
Child cot
High chair
Cleaning included
Surroundings
Terrace
Barbeque
Garden furniture
Deck chairs
Show all facilities
Floor plan and interior overview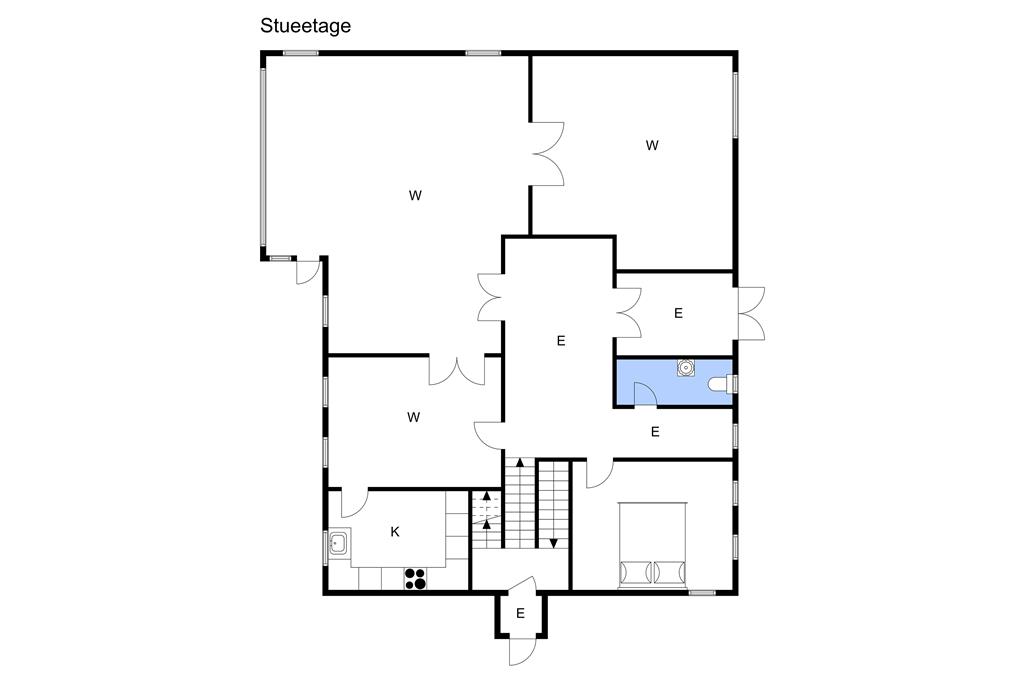 Kitchen
Dishwasher
Coffee machine
Electric water kettle
Microwave oven
Rrefrigerator
Rrefrigerator
Cooker (with plates and oven)
Oven
Livingroom
TV
Satellite
Danish TV
German TV
CD
Radio
Wooden floor
View interior overview
Consumption information
Electricity (kWh)
0.38 EUR
Pellets (Wood) (Unit)
0.10 EUR
Safety Included – your safety when you rent from us
Safety Included is insurance that guarantees you a good experience, even if an accident occurs. You always get the insurance with your booking at Feriepartner at no extra charge. The insurance is offered in collaboration with Gouda Travel Insurance.
Illness cancellation insurance without excess charge
Travel cancellation
Unemployment (cancellation)
Home contents/liability insurance
Doctor-on-call
Price guarantee (you will not find Feriepartner's holiday homes cheaper elsewhere)
Member of the Holiday Home Renters Industry Association
More about Safety Included
Less about Safety Included
Create a profile for My Feriepartner on My Feriepartnerfil til Mit Feriepartner
Provide your name and an e-mail address
Forgotten password – My Feriepartner
Enter the e-mail address you used when you set up your profile on My Feriepartner. We will then send you an e-mail to reset your password.
Back