Holiday apartment situated in the middle of the village of Tunø
Holiday home 30813 Egely

Booking details
Guests:
Choose
Arrival:
Choose
Departure:
Choose
Edit
Booking details
Guests:
Choose
Arrival:
Choose
Departure:
Choose
Edit
Show details
Update calendar and prices

Description
Holiday apartment in the old farmhouse called Degnegården. Tunø - the island without cars
Interior
This cozy apartment is 65 sqm and is located in the gateway to the right on the lovely yard. The apartment contains two bedrooms and a sofa bed and a single bed in the living room. Here is an open kitchen with a dining area. The bathroom has a shower cabinet and a heated floor. Power consumption: Dkr 45, -/day; however between the dates 15/08 to 15/05 you pay for electricity according to the electric meter. You can order cleaning. Price Dkr. 450, -. Daily rental: Dkr. 850. Sunday to Sunday.
Outdoor
Outside the holiday apartment there is a large shared garden. Here is a beautiful large wooden deck overlooking the garden with garden furniture and shelter. The garden has many cozy nooks where you can enjoy your holiday.
Location
The old farmhouse is situated in the very cozy and little city of Tunø. From here there is only 100 meters to walk to reach the beach and only 10 meters to reach the grocery store. Tunø is a small island where cars are not allowed. To get to the island you have to sail an hour by ferry departing from Hou Harbour. Tunø is very beautiful, idyllic and has a beautiful natural environment that is completely untouched. Therefore, it is an ideal holiday destination for families who love to bike, run or go for long walks and experience nature up close. Although it is a small island, the island offers an interesting cultural history. Dine at the restaurant called Mejeriet. Throughout the summer they make wonderful food with the island's many vegetables. It is also possible to rent bicycles on the island.
Show more
Facilities
100 m to the beach

Terrace

Barbeque

10 m to a shop
House information
8 adults
Pets not allowed
65 m² house
1,706 m² plot size
Built in 1959
Renovated in 2001
Toilet
Shower
Distances
100 m to the beach
100 m to the coast
10 m to a shop
100 m to a restaurant
100 m to the sea
Electrical appliances
Coffee machine
Electric water kettle
Microwave oven
Refrigerator with freezer
Cooker (with plates and oven)
Range hood
Surroundings
Terrace
Barbeque
Garden furniture
Show all facilities
Floor plan and interior overview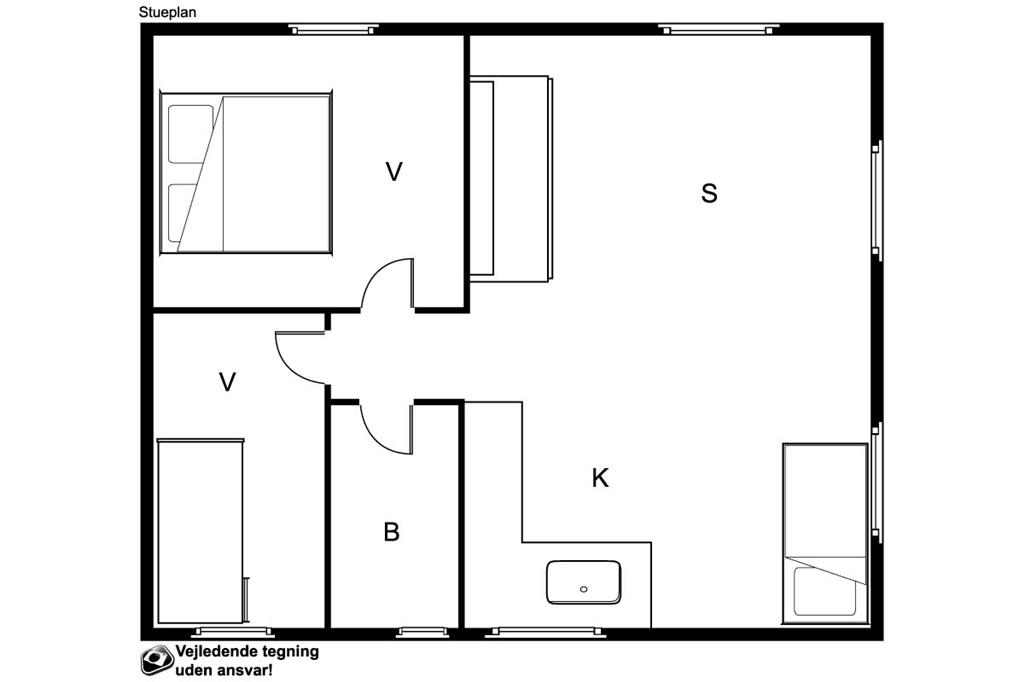 Bathroom
Toilet
Shower
Under floor heating
Stone/tile
Kitchen/family room
Coffee machine
Electric water kettle
Microwave oven
Refrigerator with freezer
Cooker (with plates and oven)
Range hood
Open kitchen to living-/diningroom
Livingroom
TV
Danish TV
CD
Radio
Single Bed
Sofa bed dbl
View interior overview
Safety Included – your safety when you rent from us
Safety Included is insurance that guarantees you a good experience, even if an accident occurs. You always get the insurance with your booking at Feriepartner at no extra charge. The insurance is offered in collaboration with Gouda Travel Insurance.
Illness cancellation insurance without excess charge
Travel cancellation
Unemployment (cancellation)
Home contents/liability insurance
Doctor-on-call
Price guarantee (you will not find Feriepartner's holiday homes cheaper elsewhere)
Member of the Holiday Home Renters Industry Association
More about Safety Included
Less about Safety Included
Create a profile for My Feriepartner on My Feriepartnerfil til Mit Feriepartner
Provide your name and an e-mail address
Forgotten password – My Feriepartner
Enter the e-mail address you used when you set up your profile on My Feriepartner. We will then send you an e-mail to reset your password.
Back