Well-maintained wooden house in Kysing near to Aarhus - view to the sea
Holiday home 30168

Booking details
Guests:
Choose
Arrival:
Choose
Departure:
Choose
Edit
Booking details
Guests:
Choose
Arrival:
Choose
Departure:
Choose
Edit
Show details
Update calendar and prices

Description
Interior
The house is well maintained and functional. The kitchen is open to the living room where the woodburning stove is the center of the house. This is the place to relax with your family. The kitchen is functional and comes with a dishwasher. For the children the house has a chair and a cot.
The solar farm provides a good contribution to the heat and also provides a pleasant climate in the house.
Outdoor
Outside the house there is a large terrace. From here you can enjoy the sun or find shade and shelter under the large covered part of the terrace. Here you can sit with dry feet even if the Danish summer shows from the rainy side. From the house's second terrace there is a view of Norsminde inlet. The garden is lovely with lots of trees and shrubs. The terrace and the garden in general will provide you with a fireplace, tennis table, garden furniture and a barbecue.
Location
The stunning Kysing Beach locates the house. Here there are both sandy and pebble beaches. The area has a beautiful nature. At the inlet, there is a very rich bird life. The area is full of hills and slopes. Here you can see the vineyards and at the winery Fjordgården you can taste the local drops. We recommend enjoying a dinner at the famous restaurant "Norsminde Kro" located at Norsminde Harbour. The restaurant has historical roots dating back to 1693 and in the cellar you can enjoy local arts and crafts during the summer.
Show more
Facilities
100 m to the beach

Wi-Fi

Sea view

Bicycle friendly area

Smoking not allowed

Wood stove
House information
5 adults
Pets not allowed
84 m² house
800 m² plot size
Built in 1986
Partly renovated in 2015
Smoking not allowed
Toilet
Shower
Sea view
Distances
100 m to the beach
100 m to the coast
3.5 km to a shop
500 m to a restaurant
11.5 km to a golf course
10.0 km to a public indoor swimmingpool
700 m to the bus
90.0 km to the airport
100 m to the sea
Energy / Heating
Wood stove
Electric heating
Solar energy
Fire wood included
Electrical appliances
Dishwasher
Coffee machine
Electric water kettle
Microwave oven
Refrigerator with freezer
Cooker (with plates and oven)
Range hood
Multimedia
TV
Danish TV
DVD
Wi-Fi

Free Wi-Fi - Less than 20 Mbit

CD
Radio
Extra
Child cot
High chair
Bicycle friendly area
Surroundings
Terrace 2

Covered terrace

Open terrace

Barbeque
Garden furniture
Deck chairs
Parasol
Carport
Show all facilities
Floor plan and interior overview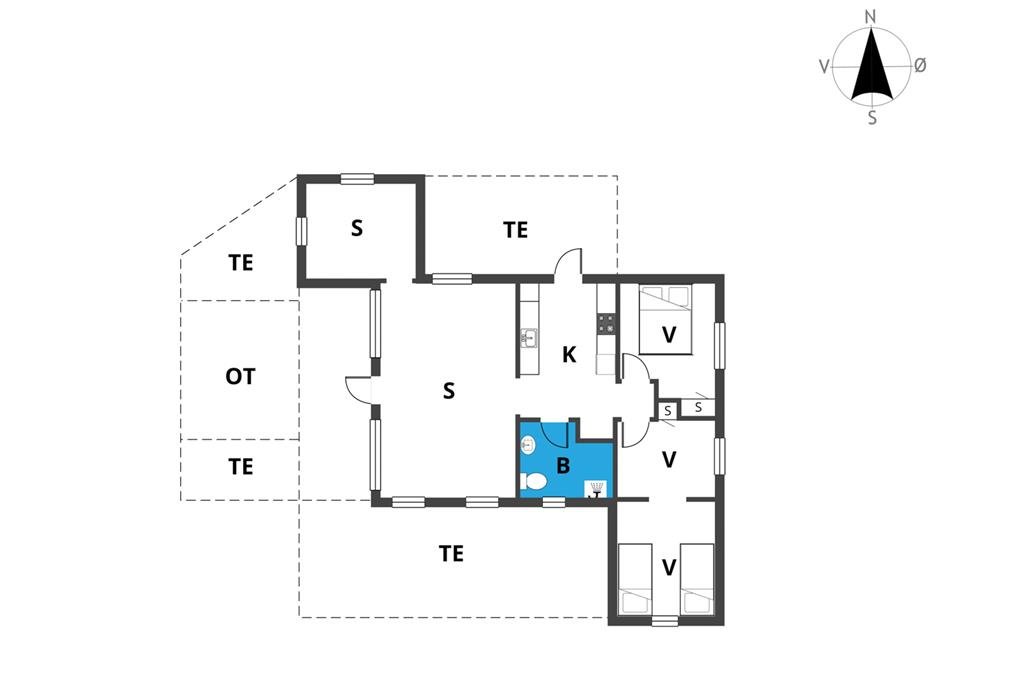 Bathroom
Toilet
Shower
Under floor heating
Bedroom
Single Bed
Single Bed
Single Bed
Kitchen
Dishwasher
Coffee machine
Electric water kettle
Microwave oven
Refrigerator with freezer
Cooker (with plates and oven)
Range hood
Livingroom
Wood stove
TV
Danish TV
DVD
CD
Radio
View interior overview
Consumption information
Electricity (kWh)
0.35 EUR
Water (Per person per day)
0.56 EUR
Safety Included – your safety when you rent from us
Safety Included is insurance that guarantees you a good experience, even if an accident occurs. You always get the insurance with your booking at Feriepartner at no extra charge. The insurance is offered in collaboration with Gouda Travel Insurance.
Illness cancellation insurance without excess charge
Travel cancellation
Unemployment (cancellation)
Home contents/liability insurance
Doctor-on-call
Price guarantee (you will not find Feriepartner's holiday homes cheaper elsewhere)
Member of the Holiday Home Renters Industry Association
More about Safety Included
Less about Safety Included
Create a profile for My Feriepartner on My Feriepartnerfil til Mit Feriepartner
Provide your name and an e-mail address
Forgotten password – My Feriepartner
Enter the e-mail address you used when you set up your profile on My Feriepartner. We will then send you an e-mail to reset your password.
Back