Summer idyll with spa and sauna in Pøt Strandby
Holiday home 40531

Booking details
Guests:
Choose
Arrival:
Choose
Departure:
Choose
Edit
Booking details
Guests:
Choose
Arrival:
Choose
Departure:
Choose
Edit
Show details
Update calendar and prices

Description
Interior
Cozy holiday house with summer idyll. The kitchen has everything in white goods including dishwasher, oven and mini oven. The sun's hot rays can be enjoyed in the conservatory or the heat from the stove can be enjoyed on the cold evenings. The living room has a dining area and sofa corner in open connection. The living room has TV with German channels via satellite and free Danish channels. In addition, the house has internet and chromecast. There are 3 bedrooms, all with double bed, and a loft with extra mattress. For the youngest there is a cot and highchair. In the bathroom there is a whirlpool and sauna, so you can get warmed, after a swin in the sea.
Outdoor
Outdoors, it is possible to enjoy both the morning, afternoon and evening sun. There are a total of 3 terraces, one of which is partly covered. While enjoying the sun, you can sit and watch the children play in the sandbox. For the smallest ones there is a trolley available.
Location
The house is located in a quiet area on a closed road, and within walking distance to the beach. The maritime harbor town of Juelsminde is just 15 minutes drive away. There you will find good shopping opportunities, and a really cozy atmosphere at the marina. From Snaptun there is a daily ferry crossing to Hjarnø and Endelave. If you would like to visit the attractions LEGOLAND and Givskud Zoo, these can be reached in just under an hour's drive.
Show more
Facilities
350 m to the beach

Internet

Whirlpool

Sauna

Smoking not allowed

Wood stove
House information
8 adults
Pets not allowed
88 m² house
800 m² plot size
Built in 1992
Partly renovated in 2011
Smoking not allowed
Toilet
Shower
Whirlpool
Sauna
Distances
350 m to the beach
350 m to the coast
2.0 km to a shop
10.0 km to a golf course
17.0 km to a public indoor swimmingpool
2.0 km to the bus
500 m to the sea
Energy / Heating
Wood stove
Electric heating
Heat pump with cooler
Electrical appliances
Dishwasher
Washing machine
Tumble dryer
Coffee machine
Electric water kettle
Microwave oven
Refrigerator with freezer
Oven
Electric plates
Multimedia
TV
Satellite
Danish TV
German TV
DVD
Internet

Free Wi-FI II – mail, surf, Facebook, streaming

Radio
Surroundings
Terrace 3

Partly covered terrace

Open terrace

Open terrace

Barbeque
Garden furniture
Deck chairs
Parasol
Sandpit
Show all facilities
Floor plan and interior overview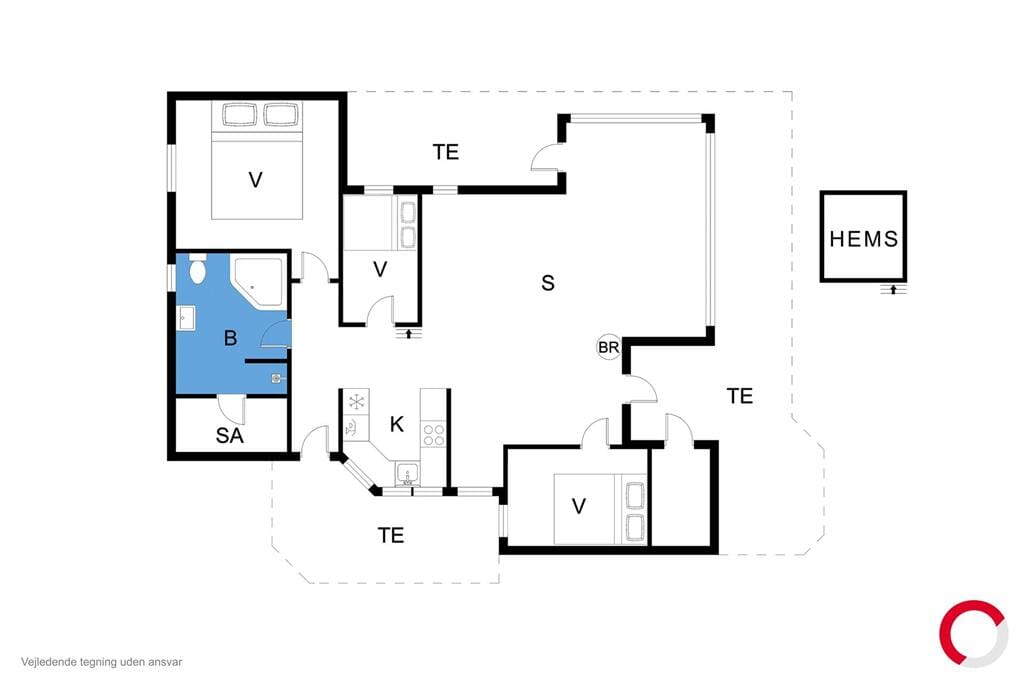 Bathroom
Toilet
Shower
Whirlpool
Sauna
Stone/tile
Bedroom
Double bed
Carpet
Bedroom
Double bed
Carpet
Kitchen
Dishwasher
Coffee machine
Electric water kettle
Microwave oven
Refrigerator with freezer
Oven
Vinyl/linoleum/laminate/cork
Livingroom
Wood stove
TV
Satellite
Danish TV
German TV
DVD
Wooden floor
View interior overview
Consumption information
Electricity (kWh)
0.35 EUR
Waterconsumption (Per person per day)
0.83 EUR
Safety Included – your safety when you rent from us
Safety Included is insurance that guarantees you a good experience, even if an accident occurs. You always get the insurance with your booking at Feriepartner at no extra charge. The insurance is offered in collaboration with Gouda Travel Insurance.
Illness cancellation insurance without excess charge
Travel cancellation
Unemployment (cancellation)
Home contents/liability insurance
Doctor-on-call
Price guarantee (you will not find Feriepartner's holiday homes cheaper elsewhere)
Member of the Holiday Home Renters Industry Association
More about Safety Included
Less about Safety Included
Create a profile for My Feriepartner on My Feriepartnerfil til Mit Feriepartner
Provide your name and an e-mail address
Forgotten password – My Feriepartner
Enter the e-mail address you used when you set up your profile on My Feriepartner. We will then send you an e-mail to reset your password.
Back