Wooden house in a sheltered garden with conservatory at Ajstrup Strand
Holiday home 30061

Booking details
Guests:
Choose
Arrival:
Choose
Departure:
Choose
Edit
Booking details
Guests:
Choose
Arrival:
Choose
Departure:
Choose
Edit
Show details
Update calendar and prices

Description
Interior
This is a bright and cozy house, which is well maintained. It is spacious with plenty of room for the whole family. 3 bedrooms: 1 double bed, 2 single beds and 2 bunk beds. The house also offers a dishwasher, washing machine and a woodburning stove.
Outdoor
Outside the house you will find several terraces with sunny sheltered spots. For younger guests the garden offers swings, a sandbox and a playhouse.
Location
The house is located in quiet area on a closed road within walking distance to a child friendly beach, Ajstrup Strand.
In this house you are just 15 km south of Aarhus, Denmark's second largest city where you will find the Old City and the amusement park Tivoli Friheden. Also, there is a large wooded area north of the house where you can test your self at a 23.8 km mountain bike route that leads all the way to Aarhus.
Note
Free Internet. The house is child friendly with a high chair, a baby cot, sandpit, swings, playhouse, baby bath and a washing machine.
Show more
Facilities
300 m to the beach

Internet

Child friendly

Bicycle friendly area

Smoking not allowed

Wood stove
House information
6 adults
Pets not allowed
86 m² house
848 m² plot size
Built in 1987
Smoking not allowed
Toilet
Shower
Distances
300 m to the beach
300 m to the coast
1,000 m to a shop
1,000 m to a restaurant
11.0 km to a golf course
12.0 km to a public indoor swimmingpool
450 m to the bus
90.0 km to the airport
300 m to the sea
Energy / Heating
Wood stove
Electric heating
Heat pump with cooler
Electrical appliances
Dishwasher
Washing machine
Coffee machine
Electric water kettle
Microwave oven
Rrefrigerator 200 L
Ffreezer 80 L
Oven
Electric plates
Range hood
Multimedia
TV
Satellite
Danish TV
German TV
DVD
Internet

Free Wi-FI I – mail, surf, Facebook

CD
Radio
Extra
Child cot
High chair
Child friendly
Bicycle friendly area
Surroundings
Terrace
Barbeque
Garden furniture
Deck chairs
Parasol
Carport
Sandpit
Swing
Playhouse
Show all facilities
Floor plan and interior overview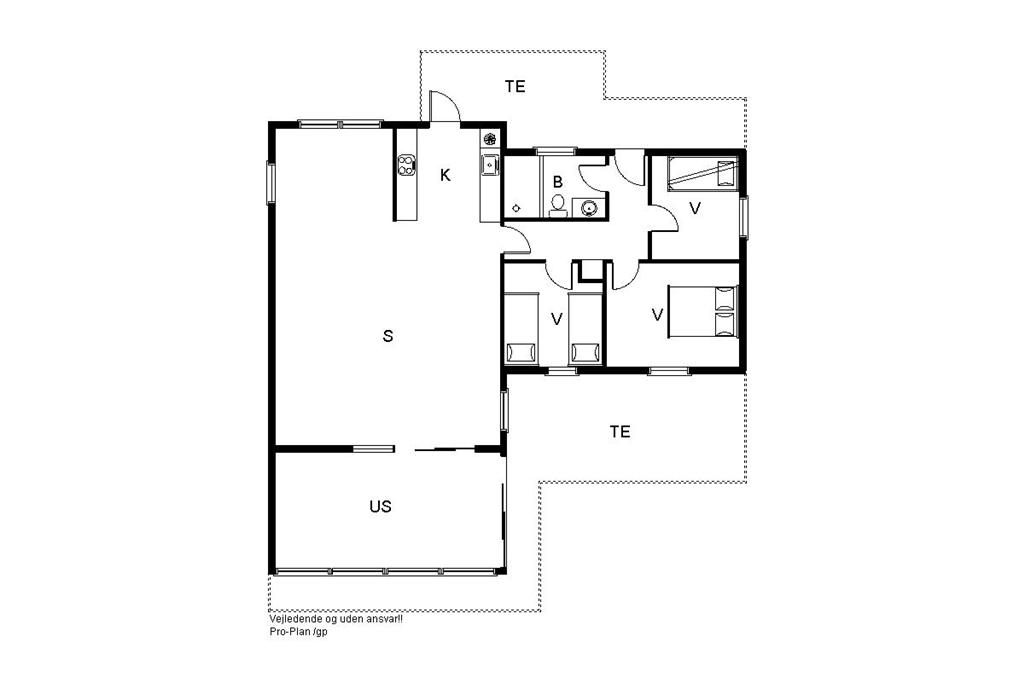 Bathroom
Toilet
Shower
Washing machine
Vinyl/linoleum/laminate/cork
Kitchen
Dishwasher
Coffee machine
Electric water kettle
Microwave oven
Rrefrigerator 200 L
Ffreezer 80 L
Oven
Electric plates
Range hood
Livingroom
Wood stove
Heat pump with cooler
TV
Satellite
Danish TV
German TV
DVD
CD
Radio
Wooden floor
View interior overview
Consumption information
Electricity (kWh)
0.35 EUR
Waterconsumption. Price per (m3)
7.64 EUR
Safety Included – your safety when you rent from us
Safety Included is insurance that guarantees you a good experience, even if an accident occurs. You always get the insurance with your booking at Feriepartner at no extra charge. The insurance is offered in collaboration with Gouda Travel Insurance.
Illness cancellation insurance without excess charge
Travel cancellation
Unemployment (cancellation)
Home contents/liability insurance
Doctor-on-call
Price guarantee (you will not find Feriepartner's holiday homes cheaper elsewhere)
Member of the Holiday Home Renters Industry Association
More about Safety Included
Less about Safety Included
Create a profile for My Feriepartner on My Feriepartnerfil til Mit Feriepartner
Provide your name and an e-mail address
Forgotten password – My Feriepartner
Enter the e-mail address you used when you set up your profile on My Feriepartner. We will then send you an e-mail to reset your password.
Back