Jerstrup manor for 38 persons in North Funen
Holiday home M64404 Jerstrupgaard

Booking details
Guests:
Choose
Arrival:
Choose
Departure:
Choose
Edit
Booking details
Guests:
Choose
Arrival:
Choose
Departure:
Choose
Edit
Show details
Update calendar and prices

Final cleaning
Enjoy your holiday until the very last minute - we do the cleaning for you when your holiday is over.
Description
At Jerstrup manor you have the opportunity to spend a holiday less ordinary in historical surroundings. 
The manor is situated in the beautiful landscape of North Funen, not far from the main road between Bogense and Odense. Jerstrup manor is located on a 35000 m plot surrounded by moat, forest and lakes. The manor can be dated back to the 13th century and has been inhabited by counts and lords, and the royals have also visited Jerstrup manor. If the walls could talk they would reveal some exciting details of Denmark´s history. Today, the manor is owned by the owners of Harridslevgård, and they have gently renovated the manor.
Jenstrup manor has totally 1000 m and includes 18 exclusively and individually decorated rooms with own bathroom. From 2 of these bedrooms you have to cross a small hallway to get to the bathroom. The last 2 beds are a sofa bed in a room which you pass in order to get to another room. The bedrooms are located on the ground floor and on the 1st floor. The cosy dining room offers space for 40 persons. The beautiful conservatory where 32 persons can be seated is located right next to the dining room. Therefore, the conservatory can be turned into an integrated part of the dining room. It can also be used as a separate meeting room. Both rooms are decorated tastefully, and from the conservatory you can access the large garden. There is a large modern kitchen with all dining equipment for 72 persons. Furthermore, there are 3 sitting rooms which can be used for meetings or relaxation. If you wish to be active during your stay, you have the possibility to rent mountainbikes. Jerstrup manor is the perfect place for a wedding. It also addresses families who wish to spend a holiday less ordinary, but it is also very suitable for meeting and courses. As a tenant you are welcome to take care of the catering, but the manor is also happy to help with catering and waiters.

Book a mini holiday

You can rent this holiday home online for a minimum of 3 nights all year. If you are interested in booking 1-2 nights with arrival Monday, Tuesday and Wednesday, please contact the office.
Show more
Facilities
8.0 km to the beach

Internet

Whirlpool

Smoking not allowed

Satellite

Dishwasher
House information
38 adults
Pets not allowed
1,000 m² house
35,000 m² plot size
Built in 1790
Renovated in 2009
2 Piece floors/levels in the rental object
Smoking not allowed
Toilet
Shower
Whirlpool
Bathtub
Distances
8.0 km to the beach
8.0 km to a shop
8.0 km to a restaurant
8.0 km to a golf course
8.0 km to the sea
Energy / Heating
Fireplace
Oil heating
Heat pump
Geothermal
Avg. energy consumption winter 639 kWh/day
Avg. energy consumption summer 157 kWh/day
Electrical appliances
Dishwasher
Washing machine
Coffee machine
Electric water kettle
Refrigerator with freezer 4
Cooker (with plates and oven)
Oven
Gas plates
Range hood
Ironing board
Iron
Multimedia
TV
Satellite
Danish TV
German TV
English TV
Swedish TV
Norwegian TV
DVD
Internet

Free Wi-FI I – mail, surf, Facebook
Extra
High chair
Cleaning included
Surroundings
Terrace
Garden furniture
Show all facilities
Floor plan and interior overview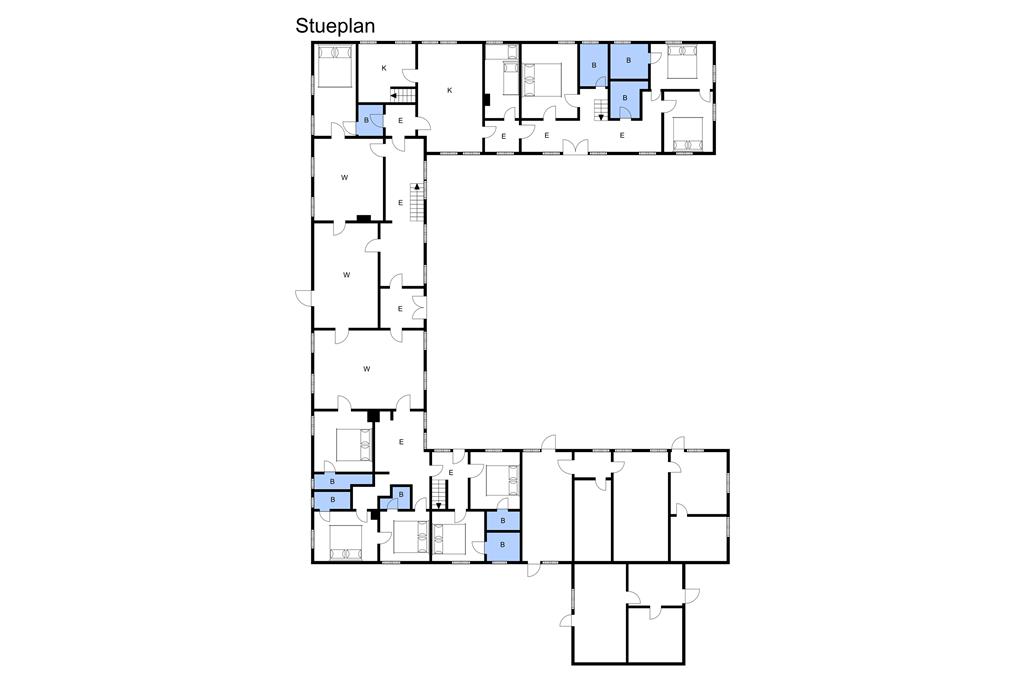 Bathroom
Toilet
Shower
Whirlpool
Stone/tile
Bathroom
Toilet
Shower
Bathtub
Stone/tile
Kitchen
Dishwasher
Coffee machine
Electric water kettle
Refrigerator with freezer
Refrigerator with freezer
Refrigerator with freezer 20 L
Cooker (with plates and oven)
Oven
Gas plates
Range hood
Stone/tile
Livingroom
Sofa bed dbl
Sofa bed dbl
Sofa bed dbl
Sofa bed dbl
Wooden floor
Utility room
Washing machine
Refrigerator with freezer
View interior overview
Consumption information
Electricity (kWh)
0.38 EUR
Safety Included – your safety when you rent from us
Safety Included is insurance that guarantees you a good experience, even if an accident occurs. You always get the insurance with your booking at Feriepartner at no extra charge. The insurance is offered in collaboration with Gouda Travel Insurance.
Illness cancellation insurance without excess charge
Travel cancellation
Unemployment (cancellation)
Home contents/liability insurance
Doctor-on-call
Price guarantee (you will not find Feriepartner's holiday homes cheaper elsewhere)
Member of the Holiday Home Renters Industry Association
More about Safety Included
Less about Safety Included
Create a profile for My Feriepartner on My Feriepartnerfil til Mit Feriepartner
Provide your name and an e-mail address
Forgotten password – My Feriepartner
Enter the e-mail address you used when you set up your profile on My Feriepartner. We will then send you an e-mail to reset your password.
Back