Create a profile for My Feriepartner on My Feriepartnerfil til Mit Feriepartner
Provide your name and an e-mail address
Forgotten password – My Feriepartner
Enter the e-mail address you used when you set up your profile on My Feriepartner. We will then send you an e-mail to reset your password.
Back
Nice holiday apartment i calm sourroundings in the outskirts of Kerteminde
Holiday home M66757

Booking details
Guests:
Choose
Arrival:
Choose
Departure:
Choose
Edit
Booking details
Guests:
Choose
Arrival:
Choose
Departure:
Choose
Edit
Show details
Update calendar and prices

Final cleaning
Enjoy your holiday until the very last minute - we do the cleaning for you when your holiday is over.
Description
Holiday apartment for 4 persons in a newly built holiday apartment building in very beautiful surroundings in the outskirts of the idyllic fishing town Kerteminde. The apartment is only 700 m away from one of the best beaches on Funen. The apartment is decorated in a modern style with 1 bedroom, open attic room, kitchen, bathroom and a cosy living room with access to the own terrace. It is possible to use the many shared facilities such as playground, the charming backyard with barbecue area, a playing area for the smaller children and a fish-cleaning area and freezing facilities. Furthermore, there is access to the beautiful green area. It is also possible to rent a room with basic kitchen facilities where you can dine with many people or a conference room. Other service facilities can be bought.
The area

Kerteminde with its charming, built-together houses offers some of the best beaches on Funen as well as many nice shops, cafés and restaurants. From the idyllic harbor the fishing boats still sail out onto the sea. Here you can buy fresh fish in the morning. There are also many exciting sights and attractions for kids and adults.  
Visit the Fjord&Bælt centre with seals, crabs and underwater-tunnel or the viking ship grave Ladbyskibet. Take on a boat trip on the fjord and visit the many exciting craftsmen and galleries in the area. The great attraction during summer is the cherry festival with a lot of specialties from Funen, music and a midnight song by the harbour.  

Book a mini holiday

You can book this holiday home online for a minimum of 3 nights (except in July/August). If you are interested in booking 1-2 nights with arrival Monday, Tuesday and Wednesday, please contact the office.
Show more
Facilities
700 m to the beach

Wi-Fi

Child friendly

Angling friendly

Smoking not allowed

Satellite
House information
4 adults
Pets not allowed
52 m² house
2,000 m² plot size
Built in 2009
Smoking not allowed
Toilet
Shower
Fish cleaning table
Distances
700 m to the beach
700 m to the coast
1,000 m to a shop
2.0 km to a restaurant
3.0 km to a golf course
Energy / Heating
Central heating
Avg. energy consumption winter
Avg. energy consumption summer 8 kWh/day
Heating included
Water included
Electrical appliances
Dishwasher
Washing machine
Tumble dryer
Coffee machine
Electric water kettle
Microwave oven
Rrefrigerator
Ffreezer 40 L
Cooker (with plates and oven)
Range hood
Ironing board
Iron
Multimedia
TV
Satellite
Danish TV
German TV
DVD
Wi-Fi

Free Wi-Fi - Less than 5 Mbit

CD
Radio
Extra
Child cot
High chair
Child friendly
Angling friendly
Cleaning included
Surroundings
Terrace
Barbeque
Garden furniture
Parasol
Show all facilities
Floor plan and interior overview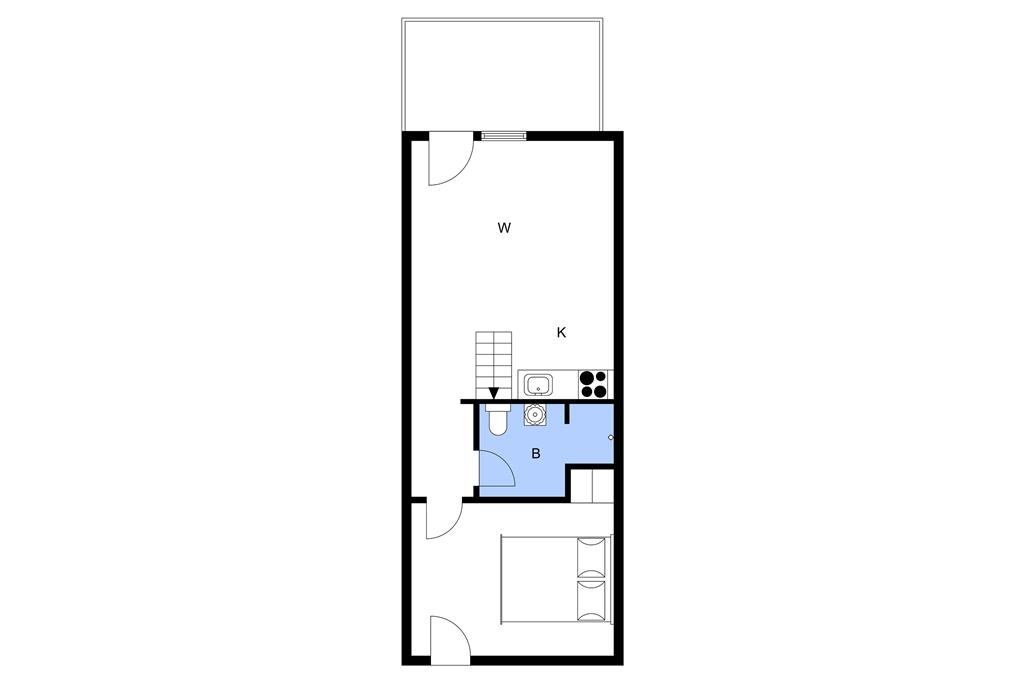 Bathroom
Toilet
Shower
Under floor heating
Bedroom
Double bed
Under floor heating
Kitchen/family room
Dishwasher
Coffee machine
Electric water kettle
Microwave oven
Rrefrigerator
Ffreezer 40 L
Cooker (with plates and oven)
Range hood
Under floor heating
Livingroom
TV
Satellite
Danish TV
German TV
DVD
CD
Radio
Under floor heating
View interior overview
Consumption information
Electricity (kWh)
0.38 EUR
Safety Included – your safety when you rent from us
Safety Included is insurance that guarantees you a good experience, even if an accident occurs. You always get the insurance with your booking at Feriepartner at no extra charge. The insurance is offered in collaboration with Gouda Travel Insurance.
Illness cancellation insurance without excess charge
Travel cancellation
Unemployment (cancellation)
Home contents/liability insurance
Doctor-on-call
Price guarantee (you will not find Feriepartner's holiday homes cheaper elsewhere)
Member of the Holiday Home Renters Industry Association
More about Safety Included
Less about Safety Included