Very cosy holiday home close to the danish/german border
Holiday home F50381

Booking details
Guests:
Choose
Arrival:
Choose
Departure:
Choose
Edit
Booking details
Guests:
Choose
Arrival:
Choose
Departure:
Choose
Edit
Show details
Update calendar and prices

Description
Nice and very cosy holiday home situated in the holiday home area Vemmingbund south of Gråsten. The house contains a nice living room with 2 sleeping places, open kitchen, 2 bedrooms and a bathroom. From the living room there is an opening out to a lovely private wooden terrace and the new lawn. The area has a child-friendly sandy beach, shop, cafeteria, midget golf, playground and restaurant. Southern Jutland has a lot of attractions. Among others there is the new large attraction Danfoss Universe.
The area

In Vemmingbund you find a child-friendly beach, kiosque, cafeteria, minigolf, playground and restaurant. The area around Flensburg Fjord offers many exciting historical and modern attractions. On Northern Als you find the large attraction Danfoss Universe, a fun park for the whole family with nature phenomena and exciting technique. If you are interested in Southern Jutland´s exciting history, you can visit the history centre Dybbøl Banke with lots of drama and knowledge about the war in 1864. The largest town in the area is Sønderborg where you can visit Sønderborg Castle, stroll along the beautiful harbour front and go shopping in the nice walking street. 
Show more
Facilities
150 m to the beach

Internet

Child friendly

Smoking not allowed

Wood stove

Satellite
House information
6 adults
Pets not allowed
68 m² house
815 m² plot size
Built in 1993
Partly renovated in 2000
Smoking not allowed
Toilet
Shower
Distances
150 m to the beach
2.0 km to a shop
500 m to a restaurant
8.0 km to a golf course
150 m to the sea
Energy / Heating
Wood stove
Electric heating
Heat pump with cooler
Avg. energy consumption winter 2
Avg. energy consumption summer 2
Electrical appliances
Dishwasher
Washing machine
Tumble dryer
Coffee machine
Electric water kettle
Microwave oven
Refrigerator with freezer
Cooker (with plates and oven)
Oven
Range hood
Ironing board
Iron
Multimedia
TV
Satellite
Danish TV
German TV
Internet

Free Wi-FI I – mail, surf, Facebook

Radio
Extra
Child cot
High chair
Child friendly
Surroundings
Terrace
Barbeque
Garden furniture
Sandpit
Swing
Show all facilities
Floor plan and interior overview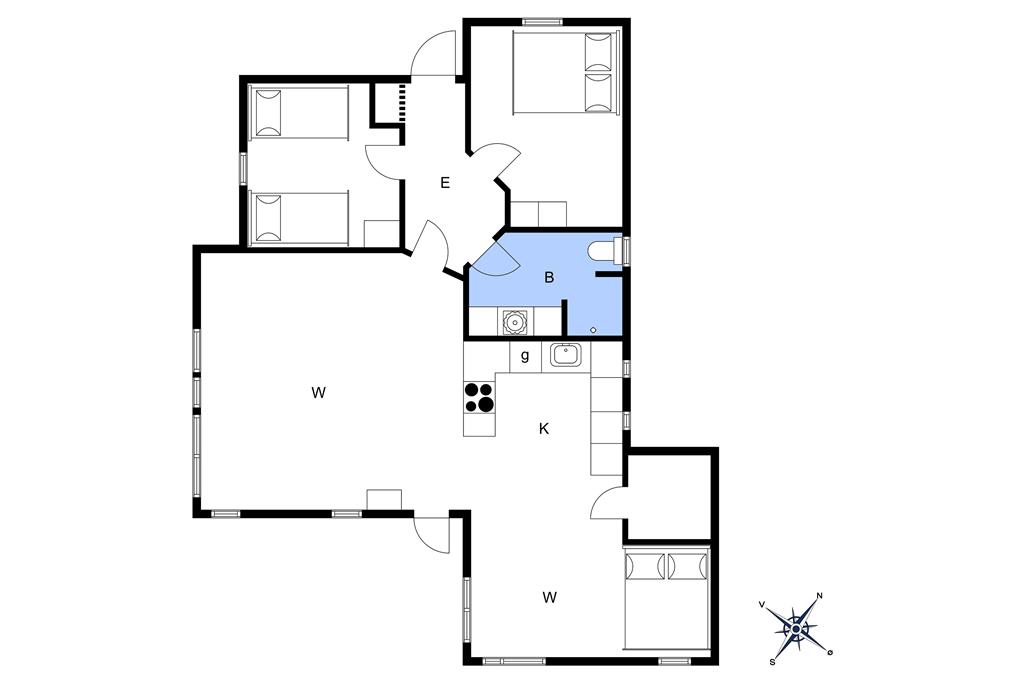 Bathroom
Toilet
Shower
Washing machine
Tumble dryer
Under floor heating
Stone/tile
Bedroom
Single Bed
Single Bed
Wooden floor
Kitchen/family room
Dishwasher
Coffee machine
Electric water kettle
Microwave oven
Refrigerator with freezer
Cooker (with plates and oven)
Oven
Range hood
Wooden floor
Livingroom
Wood stove
Heat pump with cooler
TV
Danish TV
German TV
Radio
Wooden floor
View interior overview
Consumption information
Electricity (kWh)
0.38 EUR
Safety Included – your safety when you rent from us
Safety Included is insurance that guarantees you a good experience, even if an accident occurs. You always get the insurance with your booking at Feriepartner at no extra charge. The insurance is offered in collaboration with Gouda Travel Insurance.
Illness cancellation insurance without excess charge
Travel cancellation
Unemployment (cancellation)
Home contents/liability insurance
Doctor-on-call
Price guarantee (you will not find Feriepartner's holiday homes cheaper elsewhere)
Member of the Holiday Home Renters Industry Association
More about Safety Included
Less about Safety Included
Create a profile for My Feriepartner on My Feriepartnerfil til Mit Feriepartner
Provide your name and an e-mail address
Forgotten password – My Feriepartner
Enter the e-mail address you used when you set up your profile on My Feriepartner. We will then send you an e-mail to reset your password.
Back